A Million Things - Eileen Lee and Martine Resnick, Co-Founders of The Lola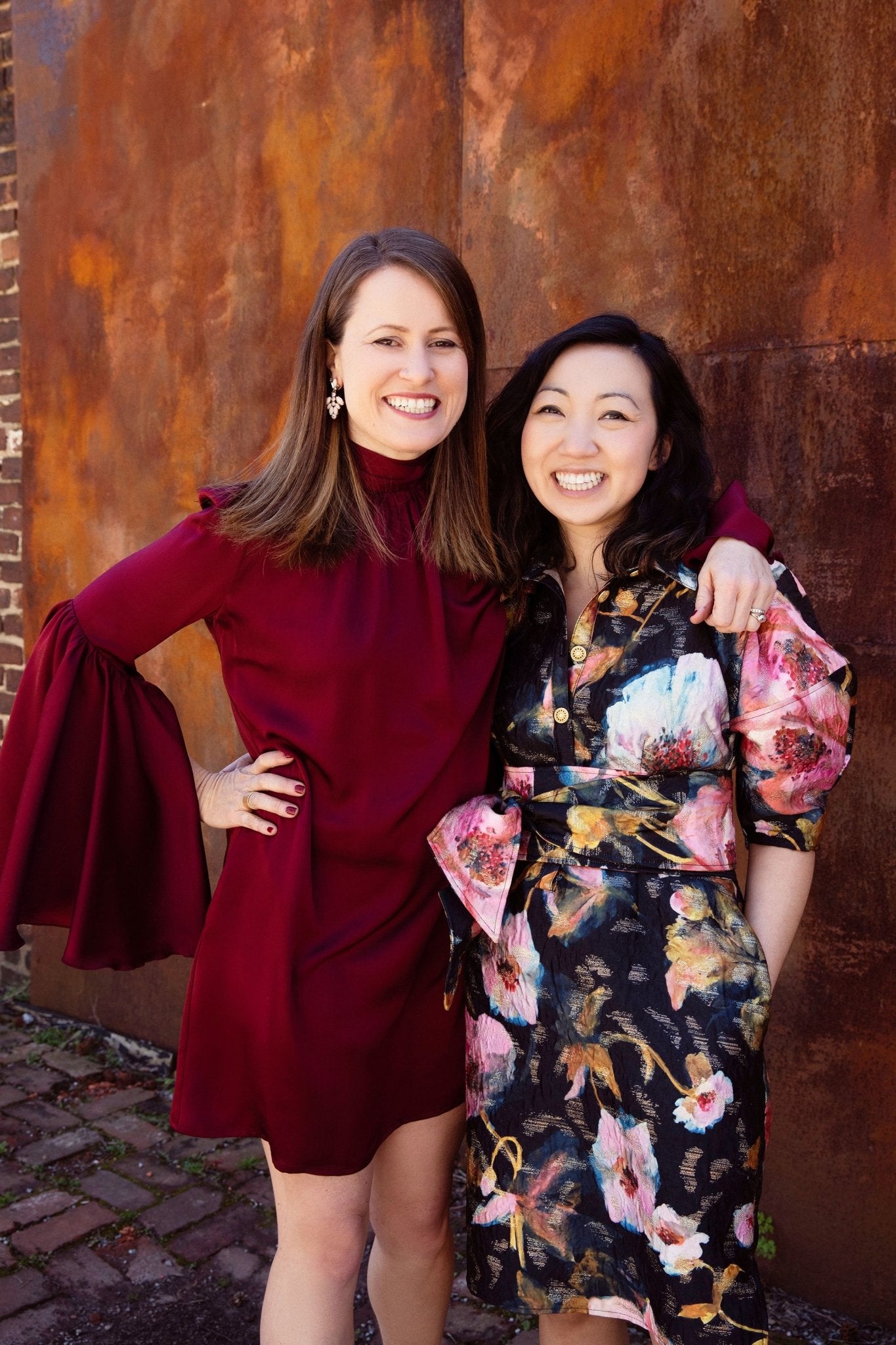 Chloe Kristyn is for the modern woman, who is using her platform to make a difference. She questions the status quo and never settles. She has a million things on her plate, yet she strives to give 110% and because she has a million things to do, she sometimes forgets to celebrate herself, so we celebrate her. 
About a year ago, I realized that had the desire to share the stories of all of the women who inspire me, if even from afar. This led to the creation of "A Million Things", our new series that highlights these amazing, powerful and beautiful women.
-Bettina Benson, Founder
Eileen Lee and Martine Resnick, Co-Founders of The Lola 
In the Spring of 2018, I was introduced to a new community. Self admittedly, I was skeptical. I wondered if I would be walking into one of the many "empowerment" groups that seem to do anything but. Luckily, I kept an open mind and as a result, I received a gift that keeps on giving. Within my first five minutes with this community, I felt a genuine and welcoming energy. From that moment on, I knew I'd found "a place where you can be continually inspired, revitalized and re-energized"; I'd found The Lola.
Co-Founded by Eileen Lee (right) & Martine Resnick (left), The Lola is A Members Club, Workspace and Community Designed for Women by Women. They're building the old boys club for women, in a way that works for women. They're creating a welcoming and luxurious haven, a third space, where women can connect and join forces for professional or personal endeavors. A place where women can be continually inspired, revitalized and re-energized.
I, as well as the other 100+ Founding Members, could not be more excited for the official opening of The Lola. As a mother, wife and entrepreneur, the support this community has been designed to provide is invaluable. The Lola is scheduled to officially open Early Summer 2019 in Atlanta's Old Fourth Ward. 
Chloe Kristyn: You are the co-founders of "The Lola" a member's club and powerful network of women who want to drive change professionally, personally, and culturally. What is unique about the community you're creating?
Eileen and Martine: First and foremost, we're an Atlanta born brand and we've spent the last year meeting with over 1300 local women and have really taken the time to understand their needs. 
Our focus on professional women and individualized support to our members as well as our personal development sessions is what sets us apart from the others. As members are on-boarded, we will customize their experience based on their challenges (from connecting them to other members in the community for support and mentorship to recommending events and resources) and what they're looking for in our community. Alongside skills-based programming, we will be particularly focused on the "soft skills" creating a safe space for our members to be vulnerable and honest about where they are and how to impact change. 
We also aim to take some of the pain out of everyday life. We know our members are busy and stretched for time. If we can provide our members the opportunity to get a healthy lunch on site or take a pre-prepared meal home. Join a yoga class at lunchtime or grab a cocktail with a friend at the end of the day then hopefully that will make their lives run a little smoother.
Chloe Kristyn: What is the biggest challenge your organization is facing today? Which is most important to your organization – mission, vision or core value?
Eileen: Currently, we're in the thick of fundraising for the build-out and launch of our first location, so the biggest challenge has been getting people to invest at this early stage and on a concept that's very new to Atlanta. In the future, we see our big challenge being: how do we continue to best support our members to impact their lives in a positive way? It's an important core value we believe is integral in supporting the mission of having women supporting women and raising each other up. 
Chloe Kristyn: You have a remarkable career and more than 18 years experience in creative marketing and building and monetizing brands and businesses. Can you set aside one accomplishment that shaped your career?
Martine: I have been fortunate enough to have a pretty varied career across two continents and multiple different industries; media, retail, licensing, wellness and beauty, fashion, interior design, to name a few. I do believe it's the combination of everything we experience that defines who we are professionally. 
However, if I was to name one moment that shaped everything it would be my very first job out of college at Cartoon Network in London. We were a small team of 5 running the brand and licensing business across Europe, Middle East and Africa. We were like a small business within a big company, so I was exposed to a lot of things I don't think I would normally have been that early on.  We launched and built The Powerpuff Girls across the region – taking it from "just another kids cartoon" and turned it into a whole fashion and lifestyle brand that was relevant for 15+ years. The designer collections were featured in top fashion magazines like Vogue and Elle. Shown in top catwalk shows across Europe and carried in retailers like Selfridges, Colette Paris and Liberty London. We even did skate boarding camps for young women and sponsored professional female snowboarders. It really opened my eyes to what it means to create and build true brand with loyal fans.
Chloe Kristyn: How did you balance your personal and professional life? What sacrifices do you feel you've had to make at each stage of your career?
Martine: This is an ongoing process for me and something I work at daily, even hourly. You're right to say our careers and lives are in stages, I think being able to recognize those transitions and having the awareness to know what you need to make the shift is key. I have definitely both succeeded and stumbled in those moments. 
I decided early on that life experience and gaining varied skills were more important to me than just climbing the corporate ladder and collecting titles. I moved from London to New York not knowing a single person in the city or how hard it is to change industries, get a company to agree to both hire and sponsor you and win the work visa lottery - all simultaneously and from across the Atlantic! I took a side step in job title but feel like I won 100 times over on all other fronts. 

On a less positive note, I totally underestimated the impact having kids has on working parents.  My favorite Melinda Gates quote is, "We're sending our daughters into a workplace built for our dads." and I absolutely believe that. I feel like I sacrificed a piece of myself during that time and wasn't able to fully enjoy one of the most meaningful experiences of my life – having kids. As a society we have to do better.
Eileen: I entered the workforce determined to work hard and not let anything get in the way in advancing my career. As a corporate consultant and a nonprofit startup COO, I worked around the clock and prioritized work over everything else. I feel fortunate to have met my husband and married him during that 12 year sprint. I definitely put off starting a family – I was deep in a mindset where I struggled to take care of myself and couldn't fathom being responsible for anyone else. Before starting The Lola, I knew that I wanted to start and build another company and that I had to find a better balance in doing so. Selfishly, if we are going to find ways to best support working women and moms, I need to actively figure that out for myself and be the best role model I can be…ask me in a couple years how it's going because I am still struggling through to figure it all out.
Chloe Kristyn: What advice would you give to the next generation of women who want to succeed and break glass ceilings in both the corporate world and the world of entrepreneurship?
Martine: Oh wow, this is. big question. I would say invest in the time to really understand who you are as a person, what you value and what makes you tick. Until we get clear on that we end up chasing the wrong things for the wrong reasons. We often waste a lot of energy chasing other people's hopes, dreams and expectations. We're hosting a wonderful class right now called "Designing Your Life" - I highly recommend reading the book if you can't make the class. 
I would also say don't get hung up on making the perfect decision. Make the best one you can for now, with the information you have, move quickly and pivot if it's not right. All the parts will end up coming together in the end, even if they seem disconnected in the moment.
Chloe Kristyn: I admire your effortlessly chic look. How would you describe your personal style?
Eileen: I've never been good at defining personal style…someone once told me that I have stylish basics down (I own too many plain v-neck tees to count) and another said I have a hip grandpa inspired style. ;) I'm lazy at my core and have learned to prioritize comfort…even if it means living in flats and having people tower over me.
Chloe Kristyn: We all know that clothes don't make the woman, but we always want to be comfortable in our skin and clothes. How important is for a woman to be well dressed?
Eileen: Unfortunately, I think it's more important for a woman than a man to be well dressed and presenting her best face forward – we are judged by our appearances more by both men and women. Aside from that, I do think clothes can transform and build confidence in a person and that is a powerful thing.
Chloe Kristyn: How much attention do you feel that we should give to fashion and do you feel it's the same for men? Does fashion allow people to express individuality or does it force people to conform.
Martine: I definitely don't think men are judged in the same way as women when it comes to how we look – it's been proven a guy can wear the same suit everyday for a year and no one notices. Unfortunately, no matter how women look or dress people will be distracted by it and interpret it as they like, so we might as well wear what make us feel happy and use clothes to our advantage when we need to. Right or wrong I do think when we take care of our appearance and figure out our own personal style it makes us feel more comfortable and confident in our own skin.
Chloe Kristyn: What are your current goals for The Lola?
Eileen and Martine: Our current goals at The Lola are to positively impact the lives of our members – hard to measure but we'd want to see members change their careers to something more meaningful, start new businesses, turn a side hustle / passion into a lucrative career, find more time to invest in themselves for self-care, health, mental wellness, and find ways to support other women and serve as advocates in the community for women.
Eileen Lee and Martine Resnick were photographed by Katie Parker.
Eileen is styled in the Morgan Maxi Length Henley and a Custom French Brocade Penelope Shirt Dress (contact for details).
Martine is styled in and is styled in the Chloe Kristyn Champagne Sleeve Tunic Dress and the Penelope Shirt Dress.
---
---