A Million Things - Amanda Brandenburg, Founder & CEO, OpusLex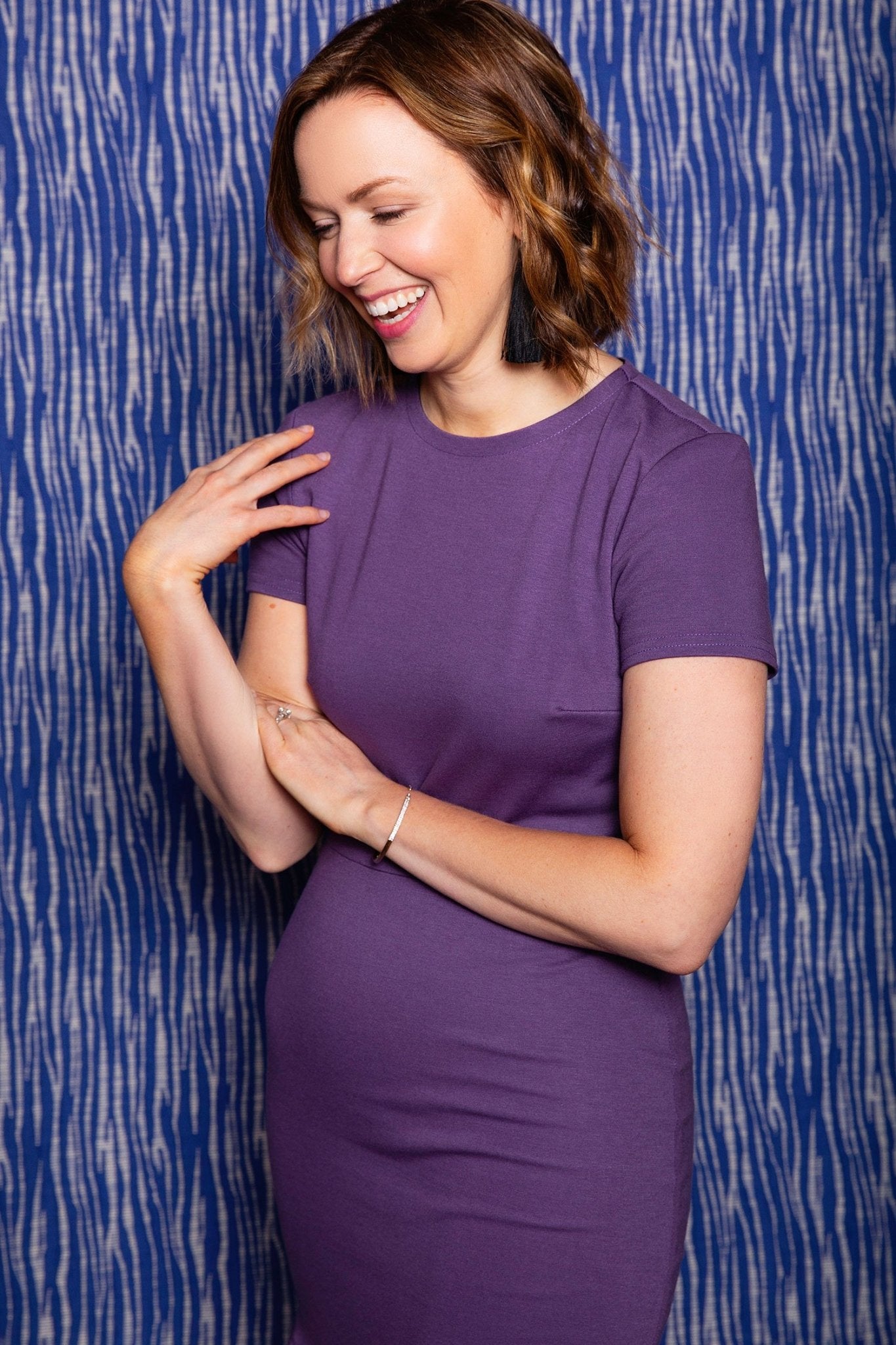 Chloe Kristyn is for the modern woman, who is using her platform to make a difference. She questions the status quo and never settles. She has a million things on her plate, yet she strives to give 110% and because she has a million things to do, she sometimes forgets to celebrate herself, so we celebrate her. 
My love for and desire to celebrate women is deeply ingrained in everything that we do at Chloe Kristyn. My entire team, from my muse, my daughter Chloe, to patternmaker, to sample sewer, my NYC and LA factory owners, to photographer, is comprised of powerful and inspirational women. About a year ago, I realized that had the desire to share the stories of all of the women who inspire me, if even from afar. This led to the creation of "A Million Things", our new series that highlights these amazing, powerful and beautiful women.
-Bettina Benson, Founder
Amanda Bradenburg, Founder & CEO, OpusLex
The path of an entrepreneur is rarely a simple one. Amanda Brandenburg, CEO of OpusLex never considered transitioning her day job in recruiting to her first big entrepreneurial adventure. After 9 years at what is now one of the country's largest legal staffing firms, she realized she needed to hit the reset button. She needed a challenge. Amanda's desire to build and create, to an almost insatiable level, led her to found OpusLex, a national Legal Staffing and Recruiting Firm.
Chloe Kristyn: Often we hear or read about the habits of successful people. Do you follow some morning routine or daily schedule to maximize productivity and well-being?
Amanda Brandenburg: This topic is always on my mind! I wish I could tell you that I eat the same thing every day, rise at the same precise moment, and follow a stringent exercise routine, without fail. However, what I have learned over the years is that there are so many seasons in life, and we have to give ourselves some grace now and then.  Right now, my season dictates a lack of control and predictability in my routine, given that I am a mom to three young children and am running my own business.  
Having said that, my best days are days when I'm up by 6:15 or so, hit the tea kettle (Earl Grey is my favorite) and sit alone in silence and create intention for my day. Then for the next two hours I float between checking emails from my kitchen counter while also getting my three children out the door in their respective shifts.
Mid-morning is usually my time to exercise. I like to fast in the morning, and find that exercising during this period makes me feel especially good.  My relationship with health  and self care has completely changed recently.  Whereas I used to exercise if I "had time," I'm quickly realizing that exercise and sleep are no longer luxuries, but essential acts for the relentless days as a mom and a CEO who is now 37 years old.
In terms of style, even working remotely, I make sure my clothes are tailored (no yoga pants!), that I'm wearing jewelry, makeup and have fresh hair! It truly has an effect on my day, and you'll never know who you may run into out and about.
CK: After 12 years at two of the country's largest legal staffing firms, you started a new brand – OpusLex. How did you come up with the idea and how did you start your business? 
AB: Quite simply, I love to build and create, to an almost insatiable level. I feel quite certain that I will be a lifelong entrepreneur.  I am endlessly curious and easily excitable. I also love to learn and grow (who doesn't?), and if you reach a point when you're no longer doing either, it's time to consider your options. At my last firm, I brought the brand to the southeast, and it was so exciting. After 9 years, it is now one of the country's largest legal staffing firms, and while it has grown into a truly amazing organization, it was no longer fun or challenging for me; it was time to reset. 
I am obsessed with new business ventures, investment strategies and product ideas, so being an entrepreneur has always been on my radar, but honestly for years I never considered transitioning my day job in recruiting to my first big entrepreneurial adventure. It's not a novel idea, but I think for many people, especially women, finding that courage and self-confidence to make the leap can be really challenging, especially when you are supporting a family.  I was fortunate to have worked in this industry for over a decade, and felt immediate support from the legal community at large. I now have a wonderful team of women who have joined the business, and I can't wait to see what the future holds for us. 
CK: Can you name a person who has had an impact on you as a leader? Maybe someone who has been a mentor to you? Why and how did this person impact your life?  
AB: I've had a lot of great leaders in my life, and most of them were men (hopefully that will change for my kids!). I still hear their voices and instruction in my head almost daily and am so appreciative of their guidance. I think as high-achieving professional women, we need to see it to be it, and sometimes we have to look harder and longer than we may like. 
I have been fortunate enough to have a mentor who really gave me permission to want it all, and believe that it was available to me, which is really key.  Women, especially GRITS (girls raised in the south), tend to be timid when it comes to declaring their success, about making money, and about asking for what they want.  I am still a work in progress for sure, but I see so many women (just like you, Bettina!) who are running businesses, earning a seat at the table and in many cases, including mine, building their own tables. Sallie Krawcheck of Ellevest is someone I think all professional women should watch closely. We are also fortunate enough to live in the era of RBG, and the Pink concert I saw last week left me truly inspired!
CK: What are the resources you would recommend to someone looking to gain insight into becoming better leader?  
AB: Well first, talk to your team and others around you. Ask them to give you honest feedback on how you are helping them be successful and grow, because that is your role as a leader.  
I learned so much in the past decade from my last director role. My team felt comfortable enough with me to let me know when I wasn't playing full out, when I let bad behavior slide, or when I needed to look at a situation from a new perspective. I also learned how to be less reactive, more thoughtful, allowing myself to take the time to respond to each situation, and to find the answers if I didn't have them immediately.
As for more tangible resources, I am addicted to self-development literature! There is truly no excuse to not be fully engaged in bettering one's self these days. From podcasts to endless books (Audible is amazing for this paired with wireless headphones!) to blogs, we have endless sources of truly impactful information at our fingertips. 
CK: As a woman in business, how important is to have a wardrobe that not only relates to your professional style, but also to your personal style? In what ways does dressing for success empower women?
AB: This is so critical, and I truly feel my wardrobe is an investment in myself, my mental health and my business – for many reasons. 
First, the obvious – you have to dress the part, especially if your clients are big firm law partners and corporate executives. However, you should inject your personal style – it's what makes you you, and mirrors everything about you.  For me, this means classic style with a twist, which may manifest as a mix of a few bold statements (be it color, fabric or cut), paired with extreme refinement and poise (you'll usually see me wearing delicate diamond hoops, my Cartier Roadster watch, (which is like an old friend to me) and classic clean lines). This is true in my personal style and professional style. 
Second, especially now that I work from home often, the investment is more for me and how I perceive myself that day.  As an entrepreneur, every day is a mental challenge, and if you're having a bad day, it's very easy to begin to wonder if you made the wrong choice. Spoiler alert: you're going to feel worse about things if you're in your gym clothes and haven't washed your hair in three days, so get your act together and dress like you mean it. I feel strongly that one's wardrobe and environment send us tiny messages about who we are and how others might perceive us, so we need to help ourselves as much as we can and set ourselves up for success.
CK: Describe your style. What are your "must have" pieces?
AB: My style is generally classic with a twist, with a touch of bohemian sophistication weaved in at times. 
My new work wardrobe in my entrepreneurial world mostly consists of jackets (so many jackets), blouses, and great heels paired with crisp jeans (for the right meeting), a pencil skirt, or trousers. A few easy representations of my style are Princess Katherine or Robin Wright's character on House of Cards. I prefer tailored looks and generally stay true to neutrals like 900 shades of blue, black, white and blush tones. I also love emerald green. To me there is a quiet power in refinement, and I'll always choose quality over quantity. However, it should be underscored that refined does not mean boring!
In my personal life, I'm most comfortable in a great pair of jeans and a jacket, or a fabulous blouse.  I'll allow bolder colors or louder prints to show my personality a bit more.
CK: What is your personal mantra?
AB: Everything you want is on the other side of fear.
CK: What is the one piece of advice you'd impart to your younger self about both style and business? 
AB: Go with your gut. 
Look for meaningful quality, and choose wisely. And be prepared to have to look for it and wait for it.  I don't expect my clothes to be fast, cheap or easy, and definitely not my business. Not in the things you put on your body, the work you do, or the people with whom you work. Oh, and buy quality shoes. They will change your life!
*Amanda Brandenburg was photographed by Katie Parker and is styled in the Chloe Kristyn Champagne Sleeve Tunic Dress and the Purple Dress Project Lena Dress.
---
---